We recently had a friend who posed an interesting question. He was on his way to work when he witnessed a car pass a bicyclist and then tried to make a right turn directly in front of the bike. He wanted to know who would have been at fault.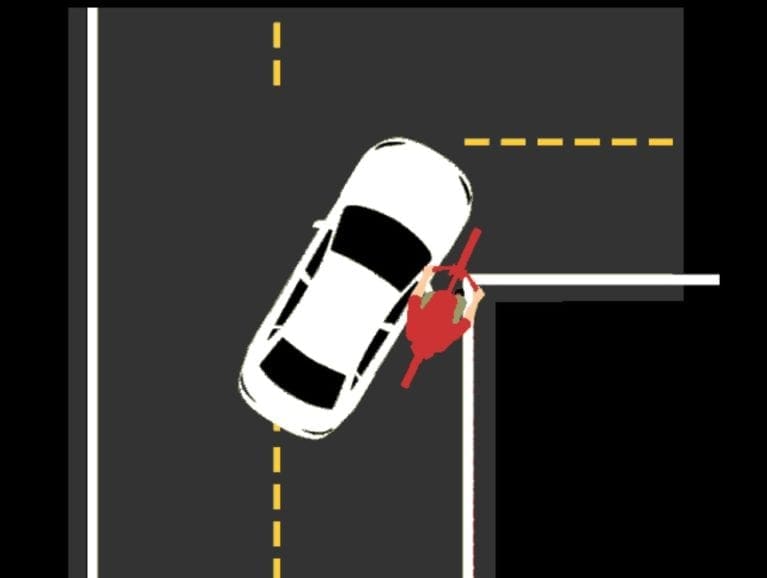 The likely answer is the person in the car. In Georgia, as in most states, a bicycle is legally a vehicle according to code 40-6-294 which states, "Any person operating a bicycle lane shall ride in the same direction as traffic on the roadway."
The types of injuries from vehicle-vs-bicycle accidents can be very severe, running the gamut from hand and wrist injuries to broken collar bones and ribs. The worst cases can involve traumatic brain injuries and even death.
So how might you to avoid bicycle-car accidents? To begin with, we advocate wearing a properly fitted helmet. Even though bicyclists in Georgia over the age of 16 don't legally have to wear one, headgear saves lives and is the single most effective way to prevent head injuries resulting from a bicycle crash. The U.S. Department of Transportation reports that 818 bicyclists died on US roads in 2015, the highest number since 1995.
Next, bicycle enthusiasts must be hyper-defensive when riding your bike. There are many inattentive motorists; therefore you must prepare yourself for drivers who are unaware and discourteous. Based on statistics, men, in particular, need to know they stand a higher chance of being injured.
The National Highway Traffic Safety Administration, NHTSA, states that the majority of cyclists killed (87%) or injured (83%) in 2013 were males. The highest number of male fatalities were 55 to 59 years old, and the most males injured were between 20 to 24 years old. In 2013, the pedalcyclist fatality rate per capita was almost 7 times higher for males than for females, and the injury rate per capita was over 5 times higher for males.
Finally, in order to help both cyclists and automobile drivers understand who has the right of way and how to avoid careless accidents, www.bicycleaccidentprevention.com has compiled 12 different scenarios that are all too common. A quick view of this informative link will demonstrate do's and don'ts for both parties. Sometimes we need to be reminded about safe practices that can be lifesaving.
At Friedman and Martin, our goal is to help you avoid injury or death. If you do get into an accident, seek out an experienced attorney immediately who understands the complexities of liability, insurance coverage and your options. We are here to help you.