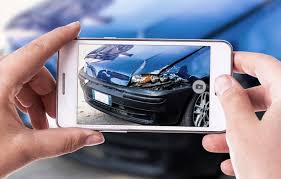 Often after car wrecks there is such a heightened state of emotion it is sometimes difficult to focus on what is going on. You're looking at your damaged vehicle, you're worried about the cars whizzing by you while you wait for the police, and likely your body is banged up and you feel a bit rattled.
Because of this, your brain doesn't always "record" the miniscule details of the accident scene. Once you have checked for injuries, made sure everyone is okay and called the police, grab your smartphone and start gathering this information:
DO TAKE PHOTOS
Weather conditions. Is it raining? Sunny? Foggy?
The surrounding area and the location where your car ended up. Record related debris on the road, brake marks (or lack thereof), street signs near the scene to show where it happened. Take photos of the road itself if is wet.
Close ups and far away shots of the damage to all vehicles. Photograph from all four corners of the cars.
The interior of your cars. Did your airbags deploy or is there broken glass?
License plate and VIN identification of all cars.
Insurance information of the other person(s) involved.
Bodily injuries. Because injuries change over time, document what you look like right after the wreck and continue to take photos as days and weeks go by. If you have lacerations, bruises, scrapes, swelling or stitches, take note to photograph the area of your body from the same vantage point each time.
DON'T OFFER COMMENTARY
If you use your video recording feature, don't narrate it. Just record the area where the accident occurred and keep your thoughts to yourself and mouth closed.
DO TAKE NOTES
In addition to the photographs, write down specifics of everything occurred to preserve your personal recollection of the accident. If you are a visual learner, sketch out the scene and how the cars impacted each other.
DO BE POLITE
As you are recording information on your smartphone, do so respectfully and discreetly. Don't point the smartphone directly at another person and don't try to get them to admit fault.