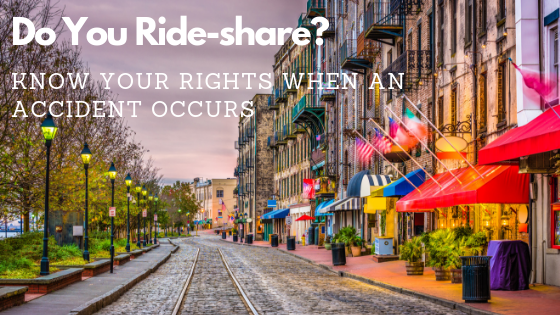 Ride sharing, sometimes called "ride hailing," has become an integral form of transportation today as about one in four Americans make use of rideshare services, according to J.D. Power and Associates. This has resulted in thousands of injuries each year. Navigating the insurance benefits of either being injured as a passenger, a driver, or understanding the liability of causing an accident as a driver, can be complicated. If this has happened to you, contact an attorney who is familiar with the law in this area. At Friedman & Martin, we can help.
Many caveats and pitfalls exist for the uninformed regarding rideshare vehicles and the insurance that covers Uber and Lyft. Both companies furnish $1 million in primary liability coverage for any damage caused by a driver, plus another $1 million in coverage if you are hit by an uninsured or underinsured driver while in a rideshare vehicle. This is specified as primary coverage, and about 60% of the drivers purchase ride-sharing endorsement policies that augment existing personal insurance. However, these stop short of commercial insurance policies even though ride-share drivers are considered common carriers such as a bus driver or train conductor.
Depending on if you are a passenger with Uber or Lyft, and the Uber/Lyft driver was not at fault, you will be entitled to have a claim for one set of benefits, as opposed to if you are hit by a driver who is driving for Uber or Lyft and/or if the Uber/Lyft driver is at fault and you are a passenger. Also, there will have to be coordination among your private auto policy, if you have one, and the insurance policy that covers Uber or Lyft.
On the other hand, if you are a driver for Uber/Lyft, and you are hit by another vehicle which is at fault, the benefits you will be entitled to vary, depending on what coverage you have on your private policy and on the Uber/Lyft policies. You are likely excluded from coverage on your private policy if you are actively driving for Uber/Lyft at the time of the collision, unless you have purchased a ride-sharing endorsement policy specifically for this type of coverage while driving. Be aware, when your Uber/Lyft app is on, you are considered "on the job." If an accident occurs before you have accepted a fare, the commercial exclusions from your own insurance are likely to apply, but both companies' core policies have not yet kicked in. Uber and Lyft provide scaled-down liability policies during this period known as the riskiest timeframe for ride-share drivers. Here is a good resource to learn more: http://bit.ly/2JE2TF3.
The primary question for both riders and drivers is what compensation is available if you are injured while involved in a ride-share accident? The answer is, it depends on several factors.
• The severity of the injuries, how much emotional distress and pain you have suffered
• Your medical expenses and projected future medical costs
• Comprehensive economic damages such as loss of property, income, and future earnings due to long term injury or disability
• Potential punitive damages where the victims suffered harm due to the intentional or reckless conduct of another.
How can good legal advice help you? To begin with, your personal injury team can help assess potential for claims based on the above factors. In addition, Uber/Lyft bear the responsibility of screening background checks and the driving records of their drivers according to state laws. If the company failed to do so, this adds a layer of increased liability to a claim. Remember, everyone who rides in an Uber or Lyft is entitled to the highest duty of care beyond a reasonably prudent person standard set for other motorists in the eyes of the law. There is also the expectation that vehicles are properly maintained for safe driving conditions and that drivers have the skills needed and receive proper training to transport passengers. If negligence has occurred resulting in an accident, compensation is due.
In order to make sure you don't sign away your rights, contact Friedman and Martin right away if you have been injured as a result of an Uber/Lyft driver or other rideshare driver, or if you are an Uber/Lyft driver and hit by another car that was at fault. Don't sign any paperwork prior to speaking with an attorney.
This area of the law is evolving since these types of ride share vehicles are increasing. As personal injury lawyers, we specialize in understanding the law and navigating insurance claims for our clients to ensure they receive the benefits they are entitled to.
Don't wait. Contact Friedman and Martin, LLP at 912-232-8500. https://www.savinjurylaw.com