Virtual Personal Injury Law Works Adaptability is the name of the game these days. The Covid-19 Pandemic has taught everyone to adapt their way of life and how they do business. As personal injury lawyers, we have found ways to work around face-to-face meetings with clients, witnesses, experts who provide testimonies and more in order to continue serving the needs of plaintiffs.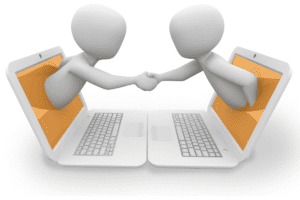 We are finding that some people are reluctant to come into the office in order to minimize exposure to others OR that they have embraced the technology themselves and simply prefer to use it when initiating an injury claim. At Friedman & Martin, we are adaptable either way and will work with clients to ensure they feel comfortable in every situation. Rest assured, filing a claim virtually can be just as successful as choosing the in-person option.
While the two areas clients need to be comfortable with are communication and transfer of documents, it important to know Friedman & Martin takes security very seriously. Therefore, our office has safe mechanisms in place for the transfer of all personal and confidential information.
Here are some of the tools we use to work on your behalf:
Communication: By now you have likely heard about Zoom and other virtual meeting platforms. They are user friendly and just as effective as sitting across the table from one another. Lawyers can conduct every type of meeting virtually, including initial discovery conversations to taking depositions and meeting with judges. We use these tools to walk through documents, see damages, or use it for an initial client meeting. Facetime can work to effectively communicate between people without being physically near one another. One of the most important aspects of personal injury law is feeling seen and heard. Setting up a Zoom call or hitting Facetime on an iPhone is not difficult, and we are happy to walk you through the process.
Documents: With all legal work, there will inevitably be the need to exchange paperwork. This can include scanning or photographing pictures of health insurance cards, automobile insurance cards and sharing policies through email. Our firm utilizes an electronic document signing service called docusign, which is an effective method for signing forms, medical disclosures, and other documents easily.
Naturally, it may feel intimidating to navigate these virtual tools, but do not let the fear cause you to delay filing a time sensitive claim. Our team and Friedman & Martin will carefully walk you through each step and assist in every way possible. For prospective plaintiffs who still prefer in-person meetings, our firm is open for business. We are practicing safe protocols, including social distancing, and asking everyone to mask up for everyone's safety. Whichever method you choose to move forward with your personal injury claim, Friedman & Martin is ready to speak with you.  To learn more call 912-232-8500 or use our form here.